October, 2015
I recently visited L'Anse aux Meadows at the northern tip of Newfoundland. It was amazing to finally see the place I've been writing about for the last few years, the only known evidence of the Vikings in North America. Big thanks to Wendy Nuttall Photography for the photoshoot!

Reissues of my previous albums "Sailing the Seas of Fate", "Beyond the North Winds", and "Godsaga" are planned for November via Hammerheart Records. The new album "Northen" is scheduled for release in early 2016. More information soon!



July, 2015
Pleased to announce that I'll be working with Hammerheart Records for the release of the new album Northen, and also a re-release of the previous albums!
Check out their Facebook page for the announcement.



July, 2015
I've received the final graphics layout for Northen and it looks fantastic! I'm also *just* about finished my final mixing before the mastering stage.
Will have some news soon on how this is being released and hopefully a timeframe!

April, 2015
Here is the front cover for the new album "Northen"!
Really captures my love of old illustrated books. The artwork was created by Sara Stuart. Layout and graphic design by Paul McCarroll.



March, 2015
Update on the new album "Northen"! Drum recordings are complete, and about to start final guitar and bass tracking. Also, Paul McCarroll, the artist/designer who worked on some of my previous albums, and who has also done work for Primordial, Mourning Beloveth, and many others, will be doing the CD layout for "Northen". It is all coming together slowly but surely! Although I have sent many demos out over the last year, I do not currently have a record label, so this will most likely be released independently. Really excited to get these new songs out there!

October, 2014
I have completed writing the final song for the new album Northen! What a journey it has been!
Here is what should be the final track listing:

1. Helluland
2. Crownless
3. Runarmal
4. Markland (The Hammer Fades)
5. Skraeling
6. Krossanes
7. Vinland
8. Northen
9. Last Ship Sails

An interesting thing to note compared to previous releases is that there are no instrumentals on this album. I did not plan it that way. Whatever inspires me to tell the story and set the mood I want is what comes out of me! Now on to the next steps of getting into the studio to get the drums recorded!

September, 2014
Time for an update! I only have one more song to demo for the new album "Northen". When that is complete, we will be ready to record the drums, and everything else should flow quickly after that. I'm very happy with the songs so far, it has taken a long time to get them together (over a year and a half since the first concept came to me) but I'm satisfied that they will be 9 very strong songs that hit hard with memorable riffs, solos, and words that will tell the tale of the Norse in Canada 1000 years ago, and the mystery of what it is to be one of the "Northen".

April 26th, 2014
Interview with eV's Underground: Thinking up things in the Dark

April 4th, 2014
Wanted to give a quick update on the album, I'm still fighting my way through the last few songs. They all revolve around the three North American areas explored by the Vikings in their sagas, Helluland (Baffin Island?), Markland (Labrador?), and Vinland (Newfoundland and beyond). As you know it's very important to me to have my albums flow like a book, and it usually takes me longer than I expect to fit it all together the way I want it. I hate to give dates but I'm hoping by late May I can have the tracks down and ready to get into the studio get the drums done.

Unfortunately, I have not had any response to the album demo I sent out to most of the major metal labels back in Dec/Jan, I know it can take time, but hope fades, and now looking at other appropriate smaller labels, or may even just release this on my own.
I'm hoping this summer after the album is complete to take a trek to L'Anse aux Meadows in Newfoundland to see this lonely outpost for myself, the only major archaeological evidence we have of the Norse in North America.

December 4, 2013
You can now finally purchase SIG:AR:TYR CDs (Godsaga, Beyond the North Winds, and Sailing the Seas of Fate) and Godsaga t-shirts through the Bandcamp page, in addition to the previously available digital downloads. I'm currently out of medium shirts, but hoping to get them in soon!

November 18, 2013
Thanks to everyone that came out to the shows in Montreal and Ottawa on the weekend. We had a blast and met many new friends! See you again someday! Work now continues on the new album "Northen". Getting to the final few songs and really looking forward to getting this completed and released.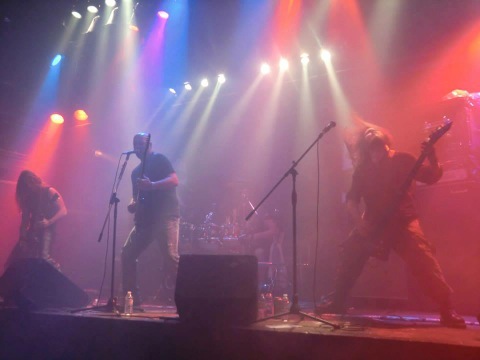 September 24, 2013
Thanks to everyone that came out to the show in London, ON on Saturday. It was a great night, and really exciting to play a new song from the forthcoming album.
Work continues on the new album "Northen", and we are also releasing a demo very soon to record companies to try and garner some interest while we finish writing and recording.

New show announcement! The night after the Montreal show, we are playing with Absu, Talamyus, From the Deep, and Damnus in Ottawa on Saturday Nov. 16th!

August 8, 2013
New show announcement. We are finally coming to Montreal! November 15, 2013 at Foufounes with Talamyus, Triskele, and Dagaz.

July 28, 2013
Work continues on the upcoming album Northen. We are hoping to hit the studio in two weeks to complete drum tracking for a few early songs for a demo as we shop around for a label.

We also have a gig announcement for Sat. Sept 21st, 2013 in my hometown London, Ontario at the APK Club. Look forward to seeing everyone there!

March 16, 2013
Thanks to everyone who came out to the show last night! It was great to meet so many of you! Thanks for your support and we hope to be back playing in Toronto soon.


March 10, 2013
We are playing our first ever Canadian show supporting Einherjer and Panzerfaust in Toronto this Friday March 15th, at the Hard Luck Bar in Toronto.
See you there!
http://inertia-entertainment.com/events/view/183

February 26, 2013

We regret to report that the Heathen Crusade Metalfest in St. Paul, MN on March 9th has been cancelled. We are very sorry to any fans who were looking forward to seeing us play. Please see http://www.facebook.com/heathencrusadefest for details and refund information.


January 10, 2013

Big concert announcement! We are finally playing our first ever Canadian show supporting Einherjer and Panzerfaust in Toronto, Friday March 15th, at the Hard Luck Bar in Toronto.
https://www.facebook.com/events/141414469347091/

December 21, 2012 - Winter Solstice

It's been almost 3 years since Godsaga. Although I've had a collection of ideas, riffs, songs for the next album for a long time, I've never had the inspiration for the overriding theme of it all. This is something that is extremely important to me, and always needed before I set down to the actual arranging and recording. A theme gives an album direction, a story, a journey to be followed. The demo "The Stranger" was based on a short story of an encounter with Odin, while "Sailing" had the snow, ice, and polar origins concept. "Beyond the North Winds" was grounded in stone, mountains, and earth, and "Godsaga" explored Egil's Saga and the themes of loss, sacrifice, and spiritual transformation.

It was only very recently that I was inspired for the overall theme of the next and most likely the last SIG:AR:TYR album, and much like the winding down of this musical journey for me, it deals with the end of the Viking age, and their adventures in my own country, Canada. Unlike the permanent settlements in Greenland, their stay here was short-lived, and we are still discovering the extent of their travels, the small settlements, and their interaction with the native cultures here at the time. For me it is the simple admiration for a group of people with an adventurous, dynamic, and individualistic spirit who even at the end of the Viking age, were still willing to throw stability and comfort aside to explore new lands, places like Helluland, Markland, and Vinland, and try to be their own master in a changing world.

The album will be called "Northen", and some of the planned songs beyond the title track include "Crownless", "One Eye's Son", "Sing Under the Shields", "Runarmal", "When the Last Ship Sails", and "Skraeling".

December 2nd, 2012

Been jamming some new songs with the band during practice and some ideas are taking shape. Really want to get the next album done and recorded over the winter. It's been too long since Godsaga, but the timing and ideas had to be right!


October 22nd, 2012

Thanks to everyone who made it out to our first ever show last week!! We had a blast attending this event, and thanks to the Legion for putting this festival on and inviting us down. Met a lot of awesome people! Some video footage available on the Facebook page.



September 20th, 2012
In late 2003, I released "The Stranger", a 6-song demo of acoustic guitar/ambient music. Only 100 CD-R copies were made, and its never been available since then… until now. "The Stranger" is now available for streaming and also digital purchase from Bandcamp. Hope you enjoy the humble beginnings of SIG:AR:TYR!

All my albums are available for streaming and digital purchase on Bandcamp. Thanks for your support!



July 17th, 2012
After 10 years as the solitary musician behind SIG:AR:TYR, I'm proud to announce that it's time to embark on the next adventure for this entity… to the live stage. For many years I've been the proverbial basement musician, never venturing forth beyond releasing an album every few years. In the beginning, I never thought that what originally was just a small hobby project would turn into what it is, and after a demo and three full length albums, I have that deep inspiration inside and the feeling that the "stars are right" to take this to the next level. I'd like to introduce my cohorts, guitarist Mike Grund and drummer Nicholas Ireland (from Battlesoul), and bassist Morgan Rider (from Vesperia). Together they will help me bring the sounds and atmosphere of SIG:AR:TYR to the live realm and keep the northern flames alive. Our first field of battle has just been announced, and we will be playing at the Winter is Coming Fest in New London, CT on Sunday October 14th, 2012.. I look forward to meeting old and new friends wherever we play. Fates wheel, is turning, my father, will guide my journey...


---